High pressure is in control of our weather the next couple days bringing some classic Autumn October weather with very dry air chilly mornings and pleasant afternoons. Temperatures will rise quickly after the sun gets up but temps will drop quickly by sunset and after.
Then the pattern begins to get more active, changeable and also uncertain as we get into the weekend and next week with a series of fronts and low pressure systems impacting the region with an extended spell of Southwest flow aloft followed by Northwest flow.
However, Friday through Sunday do NOT look nearly as wet as last Saturday.
This will give us up and down temperatures biased on the above-normal side along with above-normal rainfall, on average, the next 30 days. That doesn't mean rain every day but above average for the period.
GFS ENSEMBLE FORECAST 500mb JET STREAM MEAN FLOW NEXT 6 DAYS:
GFS ENSEMBLE FORECAST MEAN TEMPERATURES NEXT 7 DAYS:
GFS ENSEMBLE FORECAST 16 DAY RAIN DEPARTURE FROM NORMAL:
ECMWF 32 DAY FORECAST RAIN DEPARTURE FROM NORMAL:
TROPICAL CONNECTION:
The European Ensemble Model is higher than the NHC, giving it a 60% chance of becoming a tropical depression and a 40% chance of tropical storm force winds within 3-5 days. However, it does not advance it North as a storm, just the moisture from it:
SURFACE WEATHER CHART FRIDAY:
SURFACE WEATHER CHART SATURDAY-WEDNESDAY OCT 30TH:
FORECAST 500MB JET STREAM FLOW NOVEMBER 1ST: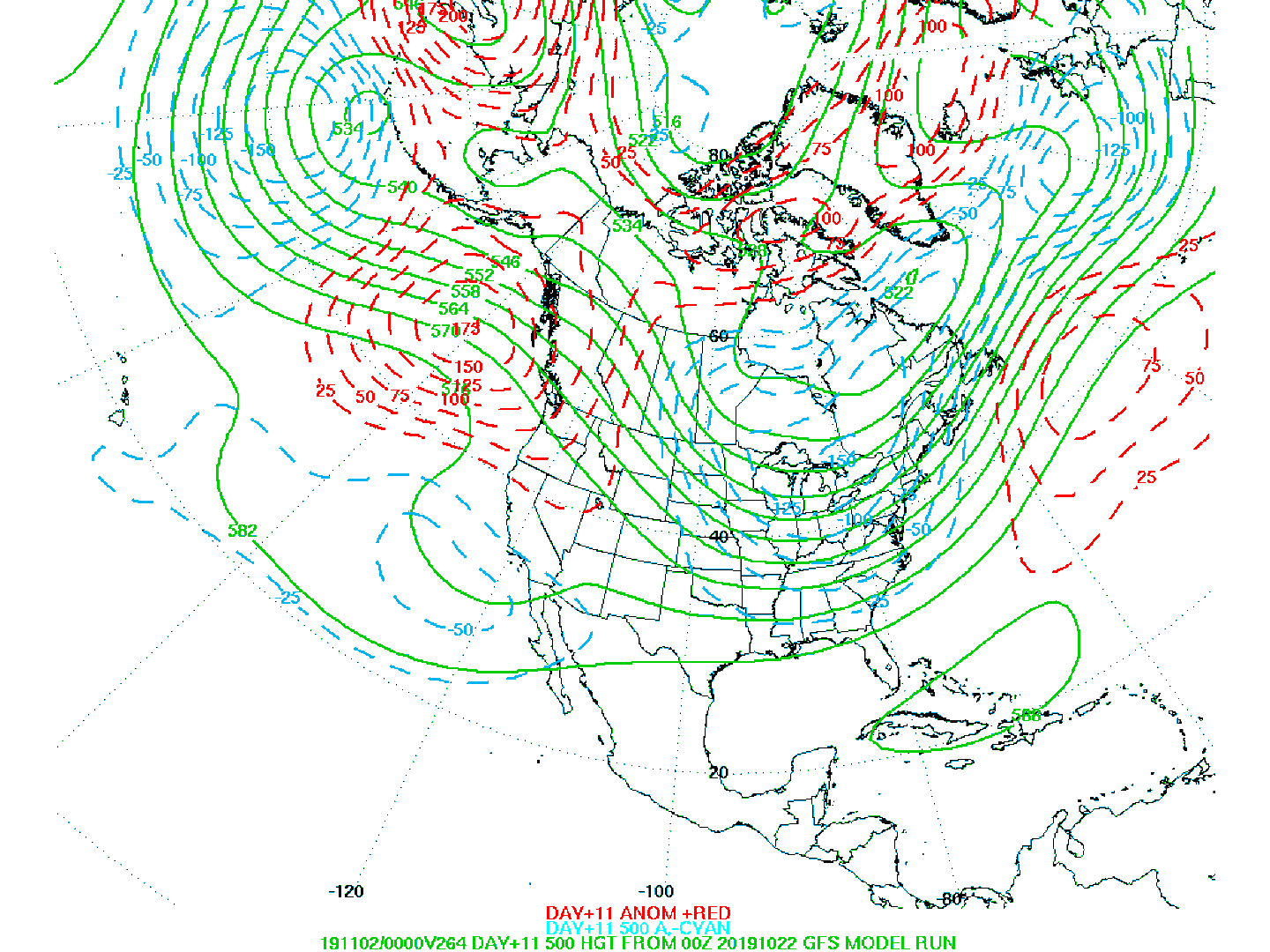 8-14 DAY NOAA/NWS TEMPERATURE AND RAINFALL OUTLOOK:
So temps swing up and down the next 7 days or so then they trend to below-normal as we end the month and start November with periods of rain in the transitions in between.
There is a very large spread between the models in the outcome for temperatures at the end of October and start of November due to timing differences on when the jet stream trough will move into the Eastern US bringing a Northwest flow aloft:
This indicates higher than usual forecast uncertainty, so expect changes and updates going forward.
CFSv2 MODEL FORECAST TEMPERATURE DEPARTURE FROM NORMAL FOR NOVEMBER:
ECMWF MODEL TEMPERATURE DEPARTURE FROM NORMAL FOR NOVEMBER:
But after some early chill there are signs that we will return to a -PNA/+NAO pattern with a jet stream trough out West and a ridge in the East to return above-normal temperatures again sometime after the first week of the new month, but as you can see the signal is not strong so stay tuned.
For more follow me on Twitter @MellishMeterWSB.