Severe thunderstorms are in the forecast for the Deep South Friday, and unfortunately, the timing is such that the storms will remain rather strong as they approach Metro Atlanta.
Metro Atlanta temperatures will start off in the upper 60s to low 70s, and they will climb to the low 80s through the afternoon. There will also be several hours of dry weather, however the sunshine will help destabilize the atmosphere, allowing thunderstorms to develop between 12pm and 2pm.
Large convective available potential energy, or CAPE, is available over Metro Atlanta on Friday morning and afternoon. Thunderstorms would be able to tap into this CAPE, and some of the storms will be able to grow quite large and powerful on Friday afternoon.
Meanwhile, a cold front will swing through the Southeast, serving as the forcing mechanism for the storms to form. Colder, drier air located above the cold front will allow downward moving winds to develop within the storms, which may produce strong winds/downbursts within the storms.
In addition, tornadoes are possible in Metro Atlanta. Wind shear is the change in wind direction and wind speed from the surface to higher in the atmosphere, and enough wind shear will be present to allow supercells thunderstorms to potentially produce tornadoes.
Timing Out the Storms
The broken line of thunderstorms will arrive in Northwest Georgia around 10am, and it will move into northwest Metro Atlanta through 12pm. The storms will move Inside the Perimeter between 12pm and 2pm, and then the storms will push into eastern-southeastern Metro Atlanta between 2pm and 4pm.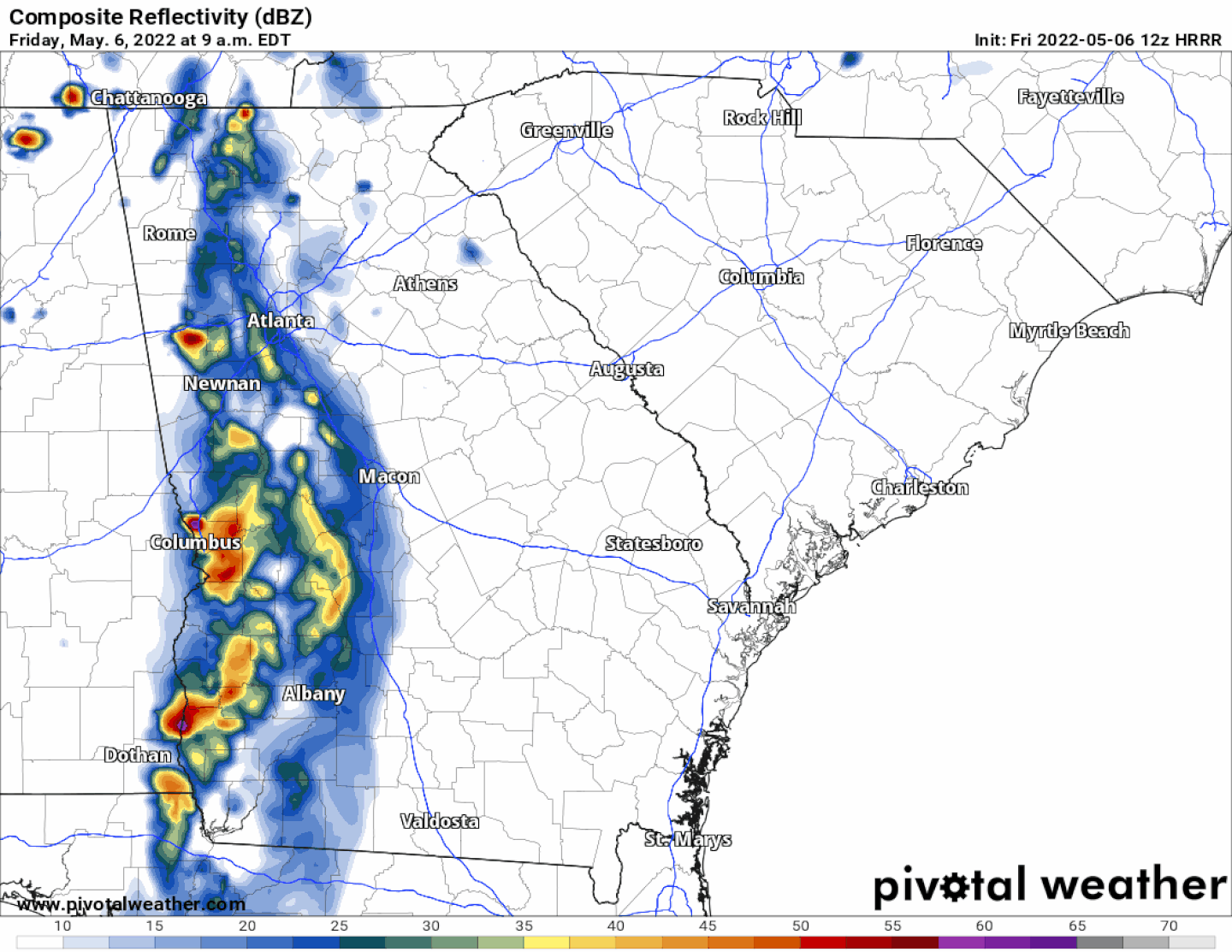 Impacts From the Storms
The Storm Prediction Center has outlined an area of 10% probability of a tornado within 25 miles of a given point within the hatched area below in yellow. The hatched area includes the majority of Metro Atlanta, and this area may experience bowing segments of storms that may produce brief yet powerful tornadoes.
Otherwise, downbursts (strong downward moving winds) are possible within thunderstorms. The downbursts can produce straight line winds that can be as strong as 70 mph.
Hail as large as 1 inch in diameter are possible, as well as torrential downpours that can produce potential flash flooding.
Stay tuned to 95.5 WSB Radio for updates throughout Friday afternoon.
Share Your Storm Reports With Me!
©2022 Cox Media Group