On and off rain is likely today and tomorrow, 48-hour rainfall amounts 1.5 inches on average with isolated 3-inch totals possible. Some fog and thunder/lightning in some areas along the way as well.
The risk of a thunderstorm with damaging winds is not zero but the risk level is low, a category 1 out of 5.
[DOWNLOAD the WSB Radio App and turn on your severe weather alerts.]
If you want to play trick or treat safe Friday will be dry but the trade-off is colder temperatures.
However, as I pointed out yesterday Halloween is not all wet, most of the rain and thunder comes before 7pm give or take a couple hours.
Also brace for a sharp temperature drop for trick or treating, as the rain diminishes the temperature will fall from a mid-day high in the 70s to around 57 5pm, 52 7pm and 47 9pm with a Wind Chill Factor making it feel around 41 with winds from the NW gusting to 25mph.
Low temperatures Friday morning 34-38 with a sunny day and breezy Friday highs only around 58 and lows Friday night 35-38 with some frost possible.
The weekend will be without any rain, partly to mostly sunny with very dry air and frost possible at night. Highs around 10 degrees below normal 57-60 lows 34-39 with frost.
SEVERE THUNDERSTORM RISK WEDNESDAY/WEDNESDAY NIGHT:
SEVERE THUNDERSTORM RISK THURSDAY:
FLOODING RISK ZONES WEDNESDAY/WEDNESDAY NIGHT: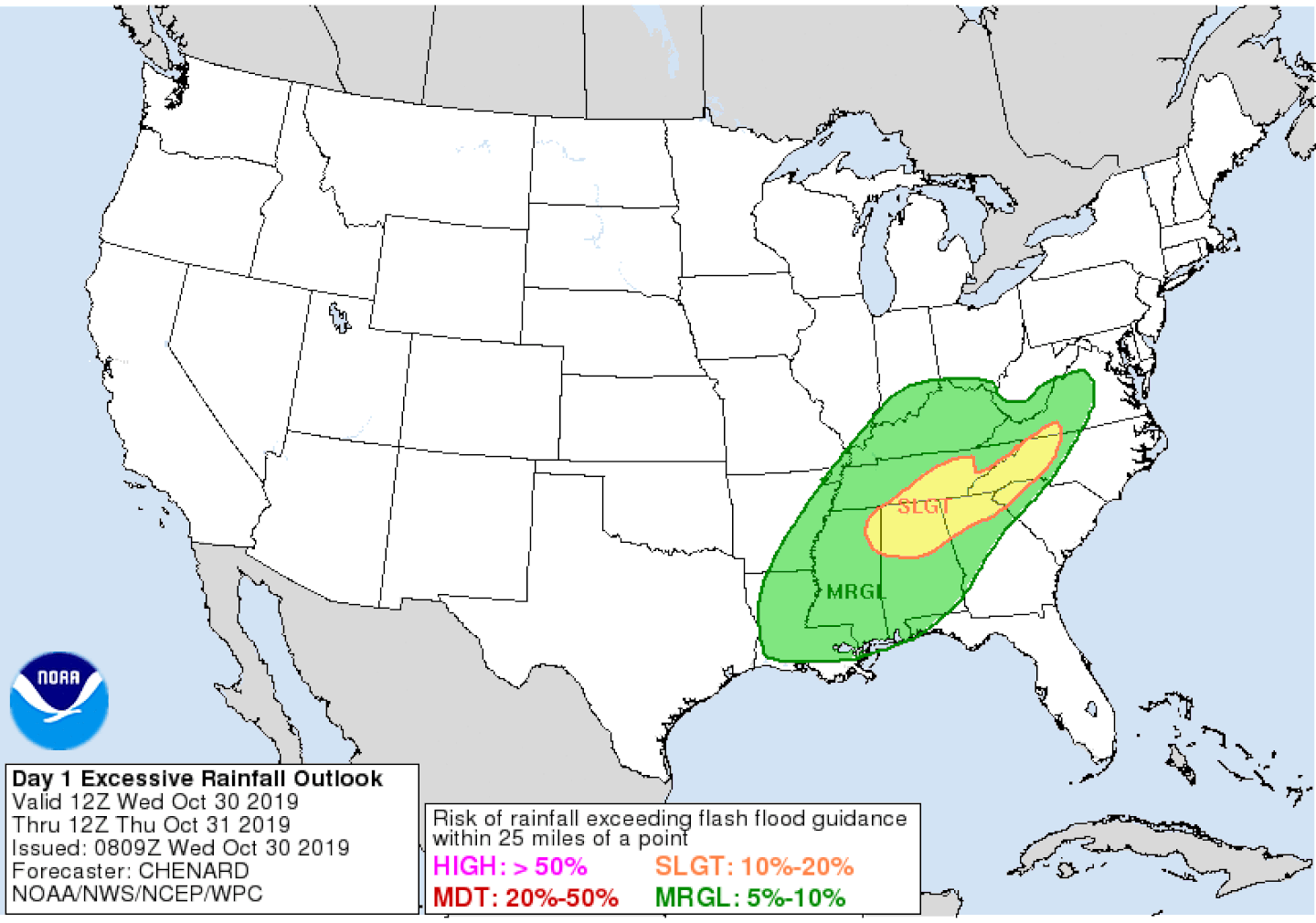 FORECAST 48-HOUR RAINFALL TOTALS ESTIMATE:
NAM MODEL SIMULATED RADAR ESTIMATE HALLOWEEN:
9AM
NOON:
3PM:
5PM:
8PM:
Do NOT take the above radar forecasts literally for that hour, remember that is just one models virtual reality simulation. Take it as the general idea.
LOOK at the temperatures fall off a cliff tomorrow between 2pm and after midnight:
MODEL BLEND TEMPERATURE GUIDANCE:
For more follow me on Twitter @MellishMeterWSB.
MY first WINTER OUTLOOK will be issued on the radio Friday morning 6-9AM.