Goodness gracious, what just happened over the New Year Weekend?!
The final two weeks of December featured daytime highs in the mid to upper 80s, and January 1 rolled in with a record high of 78 degrees at the Atlanta airport.
Peachtree City reached 80 degrees on January 1.
But let's go backwards to the month of December 2021, when the first week of the month featured warm temperatures, and the final two weeks registered 10-20 degrees above average.
This stretch of warm weather helped buoy December 2021 to the third warmest December on record for the Atlanta area.
Tropical Air in December 2021
While many of the weather headlines focused on La Nina, I was focusing on other teleconnections that can impact our weather, especially during the winter.
During December 2021, a Negative Pacific North American (-PNA) Pattern set up over the United States. This featured the Polar Jet Stream surging south over the West Coast (including California, which was hammered by beneficial rain and snowstorms).
The Jet then curved upwards, allowing a ridge to set up over the Southeast -- warm, humid air was pumped into the South courtesy of a tropical jet forming over the Gulf of Mexico.
However, the record warmth would not last forever.
Flipping the Switch back to Winter in January 2022
Just in time for the New Year, the PNA Pattern flipped -- this time, in a positive formation.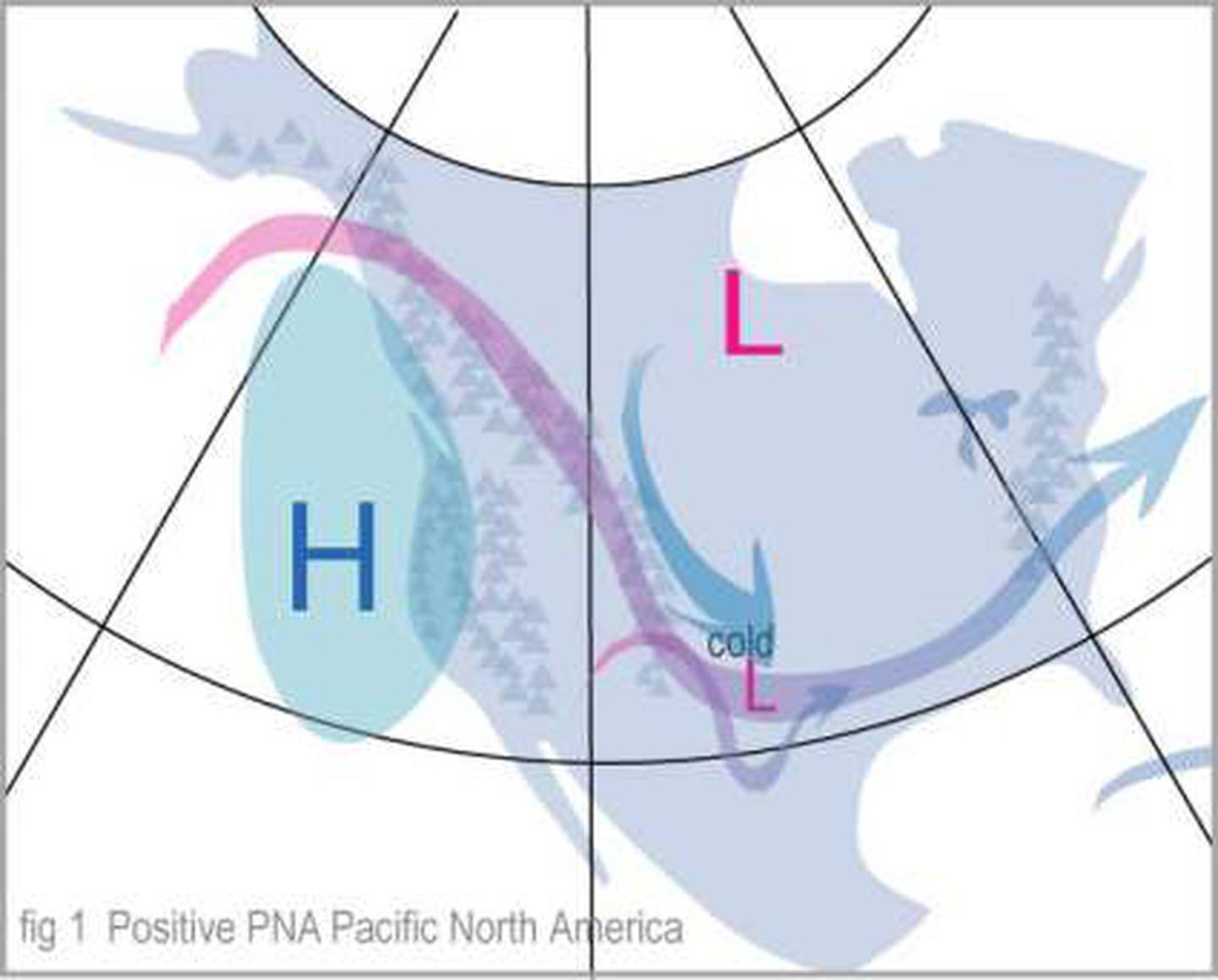 Take a look at the ECMWF forecast 250 mbar height wind speed and contours. The 250 mbar level corresponds to the upper troposphere, about 6-7 miles above the ground. This is the layer at which we monitor the jet stream, and indeed, the bright red colors below signify the jet stream -- the fast moving ribbon air that drives our weather patterns.
The PNA Pattern is one of handful of teleconnections that I monitor every winter:
El Nino/La Nina, aka the El Nino Southern Oscillation (ENSO) -- La Nina winters tend to be warmer and drier in North Georgia
Arctic Oscillation (AO) -- negative phase opens the door for cold air outbreaks in the Eastern half of the US
North Atlantic Oscillation (NAO) -- negative phase means colder air for the Eastern U.S.
Pacific North American Pattern (PNA) -- positive phase means colder air for the Eastern U.S.
A strong PNA or AO/NAO pattern can override the prevailing ENSO trends, and an example of this is the winter of 2011. Despite a La Nina winter, a strongly negative AO pattern set up, and Atlanta experienced a week of freezing temperatures and 4-6 inches of snow.
Taking a look at the next several days, morning lows will bounce around in the 20s to 30s. Afternoon highs will fluctuate between the 40s and 60s, but long gone are the 70s we enjoyed in December.
Connect with Me!
Facebook: Christina Edwards WSB
Twitter: @ChristinaWSBwx
©2022 Cox Media Group